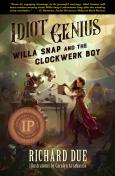 LitPick Review

Willa Snap and the Clockwerk Boy is a charming epic of how a normal girl is whisked into an adventure beyond her wildest dreams. Willa Snap's mother has created an invention that a person could put Washington D.C. inside of it, and once something is inside, everything within it is frozen in time.
As a result, the Black Fez arrive and take the family to Grandeur, a city to help contain people like Mrs. Snap. Upon arrival in Grandeur, she is greeted by a robot, or clockwerk, that warns her that her timeline is in danger (before running out of power). Soon after, she is introduced to her classmates at a school. They are full of secrets and mysteries too. Willa Snap is overwhelmed. Will she thrive in this new world or will it consume her? Is her timeline redeemable? If so, how? Find out in this first IDIOT GENIUS novel.
Opinion:
Willa Snap and the Clockwerk Boy is a gorgeously written book. I enjoyed the steady paced action that kept me turning pages until the end. The characters were engaging and were never out of place. Their secrets kept me on my toes, and the mystery of their background made me want to learn more. I am excited to read the next book in the series and continue on this journey with Willa Snap. I am also looking forward to finding out even more about the trained ninja memory assassins and clockwerks.
Explain your content rating:
Willa Snap and the Clockwerk Boy contains no offensive content.
KEYWORDS
CHARACTERISTICS AND EMOTIONS:
ACTIVITIES, HOBBIES, PLACES, AND EVENTS: