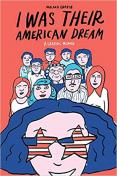 LitPick Review

I Was Their American Dream is an authentic story of a young girl growing up in California with her Filipino family. Malaka has always known her parents had huge expectations when they first arrived in the United States. After her parents' divorce, however, all of those expectations fall to Malaka to fulfill.
This memoir shows in graphic novel format how Malaka finds a way to achieve the American dream even through life's uncertainties. Find out how she does it in author Malaka Gahrib's memoir, I Was Their American Dream.
Opinion:
I Was Their American Dream is an amazing read. Throughout the story and with its accompanying illustrations, I felt like I could see the world very vividly from Malaka's point of view. Her representations of the people in her life are amazingly realistic.
Sometimes books take on a ficticious feeling when portraying real life, but this is an amazing true story. I enjoyed reading this book very much. With its interactive pages and colorful drawings, I couldn't put it down. I recommed this book to anyone who is looking for an easy, but eye-opening read.
Explain your content rating:
I Was Their American Dream contains some material not appropriate for children age 12 or younger.
KEYWORDS
CHARACTERISTICS AND EMOTIONS:
ACTIVITIES, HOBBIES, PLACES, AND EVENTS: