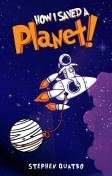 Age Range -
Mature Young Adult
LitPick Review

A sad and lonely college student is surprised one summer night by an alien. While this might sound like an old-fashioned story, it is not like any one you have ever heard before. This Earth-Human, as the aliens call him, is lured to another planet by candy and impressive technology where he is supposed to embark on a quest to save a planet full of people he does not know, from two of the most terrifying people in the universe who he also does not know.
The poor Earth-Human goes through many tough trials along the way and learns many new things both about wisdom and about the world outside of his planet. However, there are many questions that lay unanswered for him. Why did they choose him? Why are these terrifying creatures tormenting the universe? And why does Qarl have an affinity for the letter Q?
Opinion:
How I Saved a Planet! is a wonderfully light-hearted book that expresses quite a few moral concerns and then solves them neatly. The book is written as a diary explaining what is occurring in this Earth-Humans life as he goes on an extraordinary adventure. This novel is not serious in any way and should have been written as a kid's book, however, there is a lot of excess cussing that could have been eliminated from the story. This book is straight to the point and lacking in many descriptive and suspenseful qualities that are usually present in an adult novel.
Despite its odd writing style, this book is rather relaxing to read. The author presents a wonderful narrative which can be confusing in places. It is wonderful because the plot continues along smoothly and the reader can't help but feel they are a little wiser after finishing. However, it is also a bit confusing because the science behind a lot of what is going on is quite nonsensical. The reader feels the same confusion that the Earth-Human experiences from these strange happenings.
Overall, How I Saved Planet! was a unique, creative, and relaxing read that would have served better as a children's book, crude language excluded. This novel is a wonderful respite from stressful days and from the suspenseful books that are more common to sci-fi.
Explain your content rating:
Crude language, some nudity which is not described in a sexual context but rather a social and cultural one.
KEYWORDS
CHARACTERISTICS AND EMOTIONS:
ACTIVITIES, HOBBIES, PLACES, AND EVENTS: