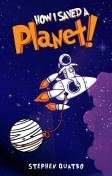 How I Saved a Planet!
Grab your space boots, buckle up, and join me in a wacky, out-of-this-world journey you'll never forget!

After finishing freshman year at college and returning to my depressingly tiny hometown at the butt-end of nowhere, all I'm expecting is a summer full of boredom. I'm certainly not anticipating an alien to show up in my bedroom and ask me to help save his planet.

When Qarl the blue alien (not Carl, he hates that) demands my assistance, it's clear an adventure is in store. His planet is in danger of being destroyed by the Great Leaders, Asdf and Jkl, and it's up to me to travel to their lair and convince them otherwise.

It won't be as simple as it sounds.