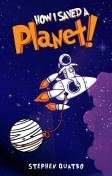 Age Range -
Mature Young Adult
LitPick Review

A secret manuscript. An unbelievable story. A slightly unexpected, and entirely unknown author. All of this leads to a tale told in first person by a college freshman whose life of boredom in a single-stoplight-town turns quite suddenly into an intergalactic adventure through the stars!
Returning home from college to discover that nothing has changed and nothing probably will, the author ruminates over the future and the likelihood of it being boringly terrible. This all changes in the blink of an eye…well two large eyes, outside the window…staring in. Soon an adventure is launched through space to the planet X@X (pronounced Zax) to save the residents from a purge and the planet from destruction. Obviously, this adventure has all been planned by the Queen of the Cosmos on the orders of Wonder Wasp the prophesying insect. Both of whom are exactly as you would imagine yet not entirely as described! Now it's up to the author, his new friend Qarl (not Carl!), and a host of interesting aliens to travel the universe to Hob and convince The Great Leaders, Asdf and Jkl, to spare X@X from destruction.
Will the author survive the trip across the universe? Will the pleas of a human actually convince the all mighty rulers to reverse their destructive decision? Will the author ever make it back to that middle-of-nowhere town? And most importantly, will that be the end of the story?
Start reading 'here' to find out!
Opinion:
How I Saved a Planet is a hilarious first-person POV read! I love how the reader is never told the author's name or gender - it allows the reader to create their own hero/heroine in any form they choose. And it is done in a way that until you really think about it, you never realized you weren't actually given those details! I also really enjoyed how the entire story is told as if the manuscript was really discovered in a trash bin and has simply been printed. This includes funny little details from the "editors" concerning the author's writing (both good and bad).
As I was reading, I had a sixth grade flashback to the novel The Phantom Tollbooth and I would say this book is almost a grown-up version of that novel — and I think a lot of readers would enjoy this book for that reason! I would recommend this novel to readers ages 17 and older due to language and sexual references.
Explain your content rating:
Using lewd language throughout the novel and has a few sexual references.
KEYWORDS