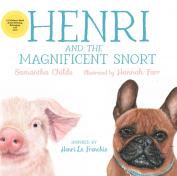 LitPick Review
Henri and the Magnificent Snort is a fifty-five-page picture book that tells the story of Henri, a little French bulldog, who lives in New York but moves with his human mom to San Diego, California. He loved New York, especially Central Park, all his friends, building snow mutts, and going to the dog park. So, he was worried about what California would be like. However, there were palm trees and the seaside, a pool, and Doggie Day Care. He didn't feel brave about day care. He did have a great time the first day, but the next day at Doggie Day Care, Russell, a new dog and a bully, was there and that is when all the trouble started. Henri was so confused and alone that he wept as he slept because of Russel laughing about his snort. Henri realized that other dogs thought the snort was cool, and this made him feel great. So, Henri held a rally to help others who were sad too from being bullied as well.
Opinion:
I cried at the ending of this wonderful book! Being a grade schoolteacher since 1978, I have not read a more on target and moving story for children that also speaks to adults. A lot of us have been bullied or know someone who has been bullied, and the resolution in the story for Henri to overcome his shame and then help others was perfect writing. Hannah Farr's illustrations are painted pictures, the pictures simple and direct, that match exactly with the story's description. I love the illustrations of the Doggie Day Care bus, Henri on the SOAP box, the egg and the pig looking at the sunset, and most heartfelt was Henri looking in the mirror and seeing a pig because he was bullied about his adorable snort. Anyone who has ever had low esteem or ever bullied needs this book to remind them just how beautiful they are; a wonderful lesson taught by a simple story. Bravo! Samantha Childs you are a jewel: keep on writing.
Explain your content rating:
Great book about self esteem and being bullied. Written well for children and will touch adults.
KEYWORDS