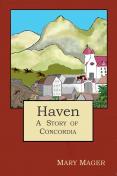 LitPick Review

WATCH THE LITPICK BOOK BRIEF VIDEO!

King Bartholomew must leave to go to Thisley while Queen Gabrielle has to stay to watch over the twins. When Bartholomew leaves, Gabrielle is confronted with a flood. When Gabrielle leaves to see what happened to the village, the twins are kidnaped. In Thisley, King Bartholomew looks for his page Toby and Prince Jasper of Thisley, who were taken hostage. Will Queen Gabrielle find out who caused the flood and who kidnaped the twins? Will King Bartholomew find out who captured Prince Jasper and Toby? Will he find them? Join Queen Gabrielle, King Bartholomew, Prince Jasper, Toby, and Honorary Princess Olive on this amazing adventure.
Opinion:
I like the plot of Haven. It caught my attention and was easy to understand. I couldn't put the book down! I like how it gave Queen Gabrielle some part of the action. In the other books in this series, she doesn't have as big of a role in the action as she does in Haven. I like Queen Gabrielle. She makes the story better when she is funny and smart, especially when she finds out who kidnaped the twins. I do wish the author focused more on Olive. I wanted to know more about what happened to her. I missed having her as the main character as she was in the first book. This book is an excellent example of courage and bravery. It has more action than the other books in the series. Readers should read the first three before this one to understand what is happening. I recommend this book series to anyone over twelve who is looking for action books.
Explain your content rating:
There is nothing offensive.
KEYWORDS
CHARACTERISTICS AND EMOTIONS:
ACTIVITIES, HOBBIES, PLACES, AND EVENTS: