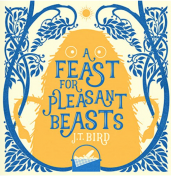 LitPick Review

Age at time of review - 29
Reviewer's Location -
Quezon City,
Metro Manila,
Philippines
View Lilily's profile
A Feast for Pleasant Beasts is a compilation of interwoven short chapters that completes the story as a whole. The setting of the different parts of the story takes place in places that we are familiar with- Edinburgh, Scotland, and Oxford Street- to name a few. The story begins with a boy named Cuthbert Wormhill preparing for a yearly, fabulous picnic. As the story progresses, it explores the different beasts who are invited to the celebration. From an Angler with a Bulbous Nose to Jolly Swans, the uniqueness of the characters makes the story come alive! Read on and discover the different unique beasts invited to the glorious feast and their adventures in A Feast for Pleasant Beasts!
Opinion:
The book by J. T. Bird, A Feast for Pleasant Beasts, is a great book that challenges the imagination and readability level of young readers. It presents a well-structured format that is different from your usual story books. The book presents a mixture of familiarity, as well as challenges the imagination of the reader, as it introduces a combination of elements that we are familiar with (such as different settings) and imaginative scenarios that needs to be processed by the reader's imagination and creativity (the beasts). Every chapter is supported by a visually-stimulating and interesting illustration that helps the reader picture the beasts being described. The illustrations go hand-in-hand with the descriptive words as it makes the stories come alive. The book is a challenging and stimulating book for solo reading, ages 5-8, as the length of story is quite long. However, it is a desirable book for parent-child or family reading within that age group. The content and vocabulary would definitely challenge young readers and would help them transition to harder books in the future. The book also offers a message about belonging despite the uniqueness of each individual. This is great when discussing growth, development, and acceptance, especially with a parent or a teacher. In general, it is a great book that will be enjoyed by advanced readers alone and for parent-child reading.
KEYWORDS
CHARACTERISTICS AND EMOTIONS: