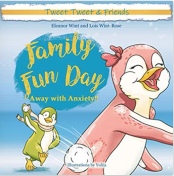 LitPick Review

Family Fun Day is a story set in a winter wonderland called Penguin World. The story follows a young and unique penguin named Tweet Tweet. While at Family Fun Day, Tweet Tweet is feeling somewhat anxious about returning to school. Her mother comforts her and reminds her to focus on the day in front of them and just have fun. After some reassurance, Tweet Tweet runs into her friend, Pegie. Tweet Tweet and Pegie have fun in the snow and ice and talk to many of their school friends; their teacher even shows up! After a full day with the other penguins, Tweet Tweet and her family head home for dinner and quality family time. This book is a heartwarming story about identity, family, and friendship. Welcome to Penguin World!
Opinion:
Family Fun Day is a perfect book for intermediate readers. Not only does it incorporate a higher level of vocabulary, but the story also includes themes that are relevant to children in late elementary grades or middle school. Tweet Tweet, the main character has a moment where she is anxious about returning to school, and her mother assures her that positivity will help any situation. Tweet Tweet then gains a boost of confidence to hang out with her school friends and be confident about who she is as a penguin with a different wing shape and feather color. This internal struggle will help readers recognize the importance of confidence and the relief that others feel this way sometimes. These themes also highlight the character growth in Tweet Tweet and her friends as well. Additionally, since the book is for more experienced readers, there are less illustrations, but the present illustrations are vibrant and pair with the story perfectly. In fact, the story would feel bare without them. Ultimately, this book is exceptional because of the vibrant illustrations, level of vocabulary, character development and relatability, and the relevant themes.
Explain your content rating:
Friend conflicts that may not be relevant or appropriate for beginning readers.
KEYWORDS
CHARACTERISTICS AND EMOTIONS:
ACTIVITIES, HOBBIES, PLACES, AND EVENTS: