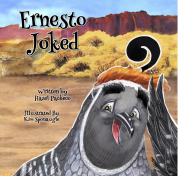 LitPick Review

Age at time of review - 30
Reviewer's Location -
Quezon City,
Metro Manila,
Philippines
View Lilily's profile
In the book Ernesto Joked by Hazel Pacheco, a joyful covey of birds enjoys their days with Ernesto, the group's resident comedian, always sharing jokes that send them into fits of laughter. Their joyful chirping came to a stop when a coyote enters their territory. It turns out, the coyote is in search of a new home after humans encroached on his previous home. Annoyed by Ernesto's playful banter, the coyote proposes a challenge: If Ernesto can make him laugh with one of his jokes, he'll continue his search elsewhere. But if he remains unamused, he'll claim the birds' home for himself. Can Ernesto craft a joke to save their sanctuary, or will the tables turn and the joke be on them? Dive into the story to discover what happens!
Opinion:
Once again, Hazel Pacheco and Kim Sponaugle have outdone themselves with Ernesto Joked. The narrative is both light-hearted and deeply relatable, offering lessons on camaraderie, friendship, and above all, bravery. A standout feature of the book is its rich vocabulary, challenging and expanding the horizons of its readers. To aid understanding, there is a helpful word bank at the end of the book and an in-text pronunciation guide, ensuring readers can grasp and appreciate the more advanced terms. The illustrations deserve special mention as they capture a range of emotions, from laughter and fear to curiosity, and complement the storyline perfectly. All in all, Ernesto Joked is a delightful read that touches and tickles the heart.
KEYWORDS
ACTIVITIES, HOBBIES, PLACES, AND EVENTS: