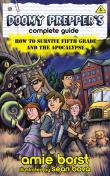 LitPick Review

If you're looking for a book that is quick and entertaining to read, Doomy Prepper's Complete Guide: How to Survive Fifth Grade and the Apocalypse is one to pick! Doomsday Prepper, Doomy for short, is having a bad day at school when he notices pink, green, and white lights flashing in the sky on his way to the principal's office. Anytime he mentions seeing the lights, he can't understand why the adults act weird, and his sister makes fun of him. He's really relieved that his best friend, Peter Peterson, believes him.
At the same time, the always reliable, never absent Kristy Bradshaw is missing from school. Rumor has it that she has an orthodontist appointment, but the situation feels ominous to Doomy. He brainstorms with a couple of friends that she might have been abducted by aliens. The longer they talk about it, more friends become curious about the lights and other mysteries around town. They decide to form a group called Five (Friends Investigate Various Events). They're determined to figure out what's going on and who's involved. When they least expect it, they wind up in the fight of their lives, trying to save themselves and the people who have gone missing in their community.
Opinion:
Doomy Prepper's Complete Guide: How to Survive Fifth Grade and the Apocalypse is a great book for kids whether they like to read or not. It's written in a conversational style that makes readers feel like they are part of the plot. Each short chapter begins with a main idea and a list of three important facts that often add humor to the story. The quirky characters appear in overexaggerated illustrations that jump off every page.
All of the situations that take place at home or school seem realistic but have silliness thrown in for fun, which makes the book easy to read. I especially like how the group, Five, works together to offer support. They realize they are better off helping one another than working alone. They try to think through their plans first, but when they're sidetracked, they also react quickly. As I read along, I really couldn't wait to see what would happen next!
| | |
| --- | --- |
| | Support a small bookstore - buy this book from bookshop.org. |
KEYWORDS
CHARACTERISTICS AND EMOTIONS:
ACTIVITIES, HOBBIES, PLACES, AND EVENTS: