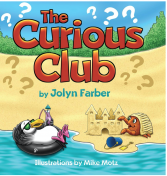 LitPick Review

Everyone gets a little curious sometimes. When the little girl in this story sees a little boy who looks sad, she decides to cheer him up. But first, she tries to find out why he is upset. So, with all the charm of a concerned little girl, she goes through every possible scenario that could possibly be making him sad. The Curious Club captures the spirit of curious kids everywhere, with imaginative rhyme and colorful pictures by illustrator Mike Motz.
Opinion:
The Curious Club is a perfect book for youngsters with big personalities and lots of questions. Its rhymes and near-rhymes make the book interesting to read, and they also help it flow well. I find each of the little girl's questions and ideas to be very interesting. Author Jolyn Farber does a great job of showing how young kids often think outside the box, coming up with ideas that most adults might not consider. This is a great book for parents and children to read together.
Explain your content rating:
There is nothing offensive in this book.
KEYWORDS
CHARACTERISTICS AND EMOTIONS:
ACTIVITIES, HOBBIES, PLACES, AND EVENTS: