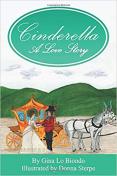 LitPick Review

WATCH THE LITPICK ANIMATED REVIEW ON YOUTUBE!

Cinderella - A Love Story is a rewrite of a classic fairy tale. Ella is born, and shortly after, her mother dies. Her father misses Marie (his wife) but is still happy with Ella. Then he decides to remarry, and his new wife and two daughters are horrible. They dismiss the servants one by one and give their chores to Ella. The stepsisters call her Cinderella because she sleeps by the fireplace and gets cinders all over her. Her stepmother makes her wear rags, and her sisters get all of her nice dresses. All of her toys and other things are taken away. One day an invitation arrives, announcing a royal ball for all the eligible ladies to attend in order for the prince to choose his wife. Cinderella is banned from going. Suddenly, she hears her name being called - her real name. Who is calling her? Will she get to the ball? And most importantly, will her life turn out "happily ever after"?
Opinion:
This was a nice book. The author did a creative job rewriting it, giving it a few twists and unexpected elements. In this book, both the prince and Cinderella mention infertility. I thought it was a little too private and not necessary for this story. There was one swear word in the book, which, like discussing infertility, seemed a bit out of place in a children's fairy tale. However, I enjoyed reading a different version of a classic. This version is meant for older kids, teens, and adults who enjoy fairy tales.
Explain your content rating:
There was a swear word and the book mentions infertility.
KEYWORDS
CHARACTERISTICS AND EMOTIONS: