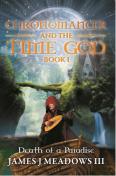 LitPick Review

In Chronomancer and the Time God, people live in a world filled with magic—where spells are flung, wine glasses fill of their own accord, and illusions are summoned. In this extraordinary land, one extremely talented man is sent on a quest for some of the wrongs he has committed in his lifetime. However, this is no ordinary quest. It is a quest assigned to people who are too well-known to be executed in the town square, but whose crimes cannot be disregarded like they could if it were just a stolen apple.
The man, known as Aliester, is required to go to King Aldon and assist in whatever quest the king needs. He is joined by an outlawed paladin, a priestess of the god Xansees, and a priest of Samidin. The three are named Cameron, Ardath, and Droma, respectively. Outside the city, they see a horsedrawn cart being ransacked by a gang of shape-shifting thieves called Reigans. Aliester displays his magical ability, scaring away the thieves. Once in the city, they meet with the king, and are told they have been called to retrieve the four parts of the God of Time and that a mysterious person known as the Chronomancer has provided a map to these pieces. However, to get to these pieces, a long and laborious road is ahead. Can these travelers complete the journey to the mystic artifacts and make it out alive?
Opinion:
Chronomancer and the Time God is an action story that follows in the style of Dungeons and Dragons, and will interest those who like magic, adventure, and quests. This is a good book, as it has very interesting characters living in a world full of mysteries and unknown forces. The plot is marvelous, showing good development that doesn't drag, and the story line is very pleasing to the mind. The imagery in this book is wonderful, as I felt I could see what the characters are seeing just by reading the words on the page. In all, I give this book four stars due to the reality that the facts aren't presented as clearly as I feel like they should have been. I recommend this book to readers ages 10 through 12 because it is a longer read and the story doesn't develop very quickly, requiring slightly advanced reading skills.
KEYWORDS
ACTIVITIES, HOBBIES, PLACES, AND EVENTS: