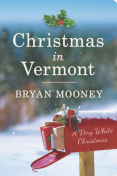 LitPick Review

A Christmas in Vermont by Bryan Mooney is a story about two people who must first discover themselves before they can discover each other. Beginning in a war zone, later the story primarily takes place in "America's Mayberry," Woodstock, Vermont.
A battle-toughened former Marine, Jack Reynolds, returns home to the United States to begin a new chapter in his life after several very stressful combat years in the military. In New York City, he becomes engaged to the daughter of a wealthy financial executive. Everything seems like it is going right for Jack, but memories of his past draw him to visit his hometown, Woodstock, Vermont, during Christmas. Woodstock is a place that turns especially magical this time of the year.
Hope Caldwell, a school teacher looking for meaning to her life, is also drawn to Woodstock after a chance meeting that left her wondering about the special attraction of this small New England town. Returning separately to Woodstock at Christmas but destined to meet, the friendly residents and town's charm involve Jack and Hope in various charitable and community activities, separately at first and then together. As they get to know each other as friends, they realize the limits to their relationship as emotional commitments to others tie them elsewhere. Misunderstanding and poor timing cause Jack and Hope to eventually go their separate ways, leading the reader to an ending that is right out of a Hallmark Christmas movie.
Opinion:
Bryan Mooney's A Christmas in Vermont does not just take place during Christmas; it embodies all that Christmas and the season is about – charity, brotherhood, family, friendship, goodwill to man, and even Hope, literally and figuratively.
Mr. Mooney has a beautiful writing style that paints the setting so vividly in your mind that you don't just see the wonders of Christmas in small town Woodstock, Vermont, but also feel the cold in the air and smell the wood burning fires and hot chocolate all around town. The characters are well-developed and woven nicely into the story as they interact and help give a feel for this close-knit Vermont community, its history, and its traditions. Jack and Hope are especially relatable to readers who have at times questioned their own lives and purpose.
Mr. Mooney's writing flows at a nice pace, moving about in the story through events and circumstances that keep the reader engaged as the story unfolds. Cleverly written dialogue and subtly presented situations set up the occasional twists and turns that makes the ending somewhat unpredictable. Overall, this book is an excellent and fun read, especially if you are looking for a light, happy, wholesome story that will support your faith in people and help you see the merits of living in small town America.
Explain your content rating:
This lovely Christmas story is about love and romance during the Christmas season. If you can watch and enjoy a Hallmark movie and not find the content offensive than this book is for you.
KEYWORDS
CHARACTERISTICS AND EMOTIONS: