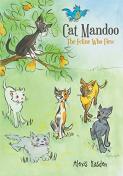 LitPick Review

WATCH THE LITPICK BOOK BRIEF VIDEO!

Cat Mandoo likes to do tricks for his human parents, Mr. and Mrs. Joyful. He'll hang upside down from chairs and do somersaults on top of the refrigerator. One time when he's on top of the fridge, he decides he would like to fly. He loves being up high and thinks he would like it better if he went even higher. He goes to his pear tree and asks the birds to teach him to fly, but they fly away and don't come back until he is out of the tree. His friends tease him and say that cats don't fly, but he won't listen. When his human parents tell him they are going on a long trip and taking Cat Mandoo with them, he wonders if this will finally be the chance to make his dream come true.
Opinion:
Cat Mandoo: The Feline Who Flew is a cute book for 4-6-year-olds. The illustrations are adorable, and the story is easy to read and understand. The message of this book is follow your dreams, and they will come true. The plot shows that sometimes what you want to happen may come about in unexpected ways! My sister, who is 4, enjoyed hearing me read about this silly cat. Cat Mandoo: The Feline Who Flew is a pleasantly well-written book with a great ending!
KEYWORDS
CHARACTERISTICS AND EMOTIONS:
ACTIVITIES, HOBBIES, PLACES, AND EVENTS: