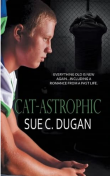 Age Range -
Mature Young Adult
LitPick Review

Have you ever met someone and feel like you know them already, perhaps from a past life? In Cat-astrophic by Sue C Dugan, Nick Dupont is a 16-year-old high school junior in a small rural town in western Michigan whose world is about to be turned upside down when a new girl arrives at school, Catherine ("Cat") Thomlinson. Nick has everything going for him – football star being scouted by colleges, good grades, and his girlfriend, Emily, the Junior class president and envy of other guys. It turns out that Cat and Nick not only become classmates and project partners in World History class, but they have also been in love before…many, many years before. In fact, generations ago. As the story begins, Cat meets Nick in class and after he introduces himself, she says "I know." He is perplexed by this statement since he can't recall ever meeting her before, but gradually over time memories resurface, and this son of a Methodist minister begins to believe in reincarnation. Nick's past as Jean Claude Rousseau, a cadet in a French military boarding school at the start of World War II, gradually surfaces in his memory and dreams. And his past begins to interfere with his present life in high school - his football, friends, family, and even his relationship with his girlfriend. Paired together on a World History project with Cat, their past relationship at the start of World War II as a gypsy Chaton (Cat) and as cadet Jean Claude (Nick) becomes clearer with the help of more flashback memories and a past-life therapist. Apparently, their clandestine love had developed just as the Germans overtook France and gypsies were being rounded up and incarcerated in internment camps. Cat feels that in the past Nick (as Jean Claude) killed her (as Chaton) by leaving her to die, imprisoned in a deep hole at an internment camp. Therefore, when they meet again as Cat and Nick, at a different time and place, is it now Cat's chance for revenge or does the truth lie deeper and is yet to be uncovered?
Opinion:
Paranormal romance is not a genre that I would normally choose to read, but it caught my attention because it is a story about loving someone in a prior life and reconnecting again in the present. And I was not disappointed by this story. Sue C. Dugan masterfully weaves a fictional romance which takes place as France is being invaded by the Nazi's at the start of World War II, into a present-day budding high school romance. Alternating between 1940 and the present, scenes are beautifully described to make the action come alive, whether in the heat of battle on a battlefield or on a football field during an important game. The main characters are also beautifully and richly developed to help make them relatable and engaging for teens. Specifically, the mirroring of the relationship between Jean Claude and Chaton and that between Nick and Cat is not forced and is cleverly developed in the story. The book's descriptions of their interactions and the dialogue supporting their love, past and present, are also skillfully woven into the story, as their past romance parallels their growing present-day romance. The story also touches upon common issues of this age group such as jealousy, bullies, academic achievement, and parental guidance.
Although paranormal romance Is not my usual genre, I can appreciate Ms. Dugan's unique approach to a story about a high school romance. What a clever idea to use reincarnation to mirror the present-day romance with a past generational romance. Flashbacks of the past relationship of Chaton and Jean Claude are appropriately placed throughout the text into the present-day story. The reader is also kept engaged in the developing romance between Cat and Nick, wondering how and why Cat feels that Nick (as Jean Claude) was responsible for her death (as Chaton) during World War II. The ending is surprising and satisfying, leaving plenty of opportunity for a sequel.
Cat-astrophic is more than a paranormal romance as it also has strong elements found in historical fiction. The story does not just discuss World War II but also the Romas or gypsies in France at the time and their lifestyle and history, their plight and persecution by the French and later by the Nazis, and the bravery of the cadets at Cadre Noir led by Colonel Michon against the advancing German Panzer division into the Saumur region. Reincarnation and exorcism, as well as some traditional religious beliefs on these subjects are also briefly touched upon and test our imagination. Past-life therapy using regression with guided imagery additionally become possible areas for further research and class discussion.
Writing the past romance within the backdrop of the internment and persecution of gypsies at the hands of the French and Nazis was enlightening and educational. Although, I was surprised that this story makes no specific mention of the Holocaust by name or the overall magnitude of this state-sponsored mass murder by the Nazis. And as said by one character in the story, it is true that "…everyone always thinks about the Jews in that war [World War II]," there are over 6 million reasons why. About six million Jews, many of them children, were persecuted and murdered in concentration camps set up for mass killing by the Nazis in places like Auschwitz, Dachau, and Bergen-Belsen. Present-day teens are at the age now where they are just learning about this Nazi genocide and books like Cat-astrophic have an obligation to make teens aware of the horrors and enormity of the Holocaust, which predominantly included the systematic mass murder of six million European Jews as well as approximately five million other "undesirables" including gypsies, intellectuals, people with physical and mental disabilities, political dissidents, and homosexuals. The world must never forget.
Congratulations to Ms. Dugan on another excellent book. She has done it again. Overall, I highly recommend this book to teens 16 and older who like to read teen romance stories set among history, with a unique blend of the paranormal. The readers should also be comfortable with a story that mentions premarital sex (without explicit descriptions or acts) and where teen characters occasionally drink alcohol, sometimes to excess. I look forward to her next installment in this series.
Explain your content rating:
Besides being a teen romance, this story includes mention of sex and alcohol. World War II and its atrocities are also more appropriately read about and discussed by mature readers.
KEYWORDS