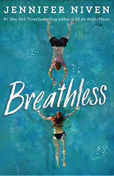 LitPick Review

What do you do when your entire life changes in an instant? Soon-to-be adult Claudine Henry has her entire life planned out. First: go on a wild summer road trip with her best friend Saz. Second: attend Columbia in the fall. Third: make a splash in California as a popular novelist. But all that is thrown out the window when her parents drop a bomb. They are getting a divorce.
Suddenly, Claude feels like the floor has been pulled out from beneath her. She hopes and prays that it's all just a badly staged joke, but as the divorce becomes more real by the day, anger, betrayal, and grief threaten to overwhelm her. Claude always thought her parents were happy. How could someone break trust so easily?
To get their mind off things, Claude and her mom take a trip to a remote island in Georgia, miles away from her father. No Wi-Fi, no boys, just blue waters and endless skies to drown their sorrow in.
Except there is a boy: Jeremiah Crew. Barefoot, charming Jeremiah Crew, who likes the nickname Miah and doesn't like the nickname J.Crew. A boy who has secrets of his own but is free-spirited and beautiful in ways Claude has never seen before.
As Claude rides wave after wave of sadness, she clings to the hope of Miah and the prospects of the future, learning things about romance and herself and everything in between along the way. Growing pains are never easy, but they're the only way to reach the other side.
Opinion:
Jennifer Niven has delivered yet another stunning, heartbreaking novel about growing up! Niven is fantastic at taking normal experiences and writing them into something extraordinary. Themes such as feeling betrayed and the fear of being unlovable were expressed and discussed wonderfully throughout the story. At times, I did tire of Claude's naivety, but her heart was always in the right place, and it was nice to see her grow out of her privileged mindset. Miah was also a very well-written character. He acknowledged his flaws and always strived to do what was best for himself as well as Claude. With the gorgeous island setting and succinct writing style, this book was truly a cinematic experience. Breathless is perfect for fans of E. Lockhart's We Were Liars or Niven's own All The Bright Places, and for any soul, young or old, who feels like their life is changing.
Explain your content rating:
Mature discussions and scenes
KEYWORDS
CHARACTERISTICS AND EMOTIONS: