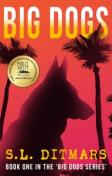 LitPick Review

Lieutenant JW North has managed to stay mostly safe throughout his career as a lieutenant. But during his last night on duty, he responds to a call in his town about a serial criminal nicknamed The Shadow by the news. He arrives at the scene of the crime, only to be shot by the notorious criminal. JW survives the shooting and wakes up in the hospital two weeks later having had a mysterious dream-like vision. In his vision, he sees a lot of dogs, along with one that looks very similar to a dog he worked with earlier in his police career. Once JW has recovered, he knows that he must hunt down the shadow even if that's the last thing he does in his career, and he's going to do it with the help of a dog. Will JW be able to put the notorious Shadow behind bars? Or will he end up getting hurt even further?
Opinion:
Overall, I really enjoyed reading this book. The story itself was very suspenseful, and I could not put the book down once I started to read it. I also liked how the author included chapters from various perspectives such as from The Shadow and the other police, not just the perspective of JW. This made the story more enjoyable to read and also added to the element of suspense. The pacing of the book was also very good as it wasn't too fast, but it also did not feel slow or boring. Reading this book taught me a lot about the life of a police officer as well as all the work that goes into investigating a call from the perspective of the police. I also learned a lot about how difficult it is to train a K9 dog, from selecting which one you think would fit you best from a breeder to the upfront costs, and learning to work with the dog. However, we also see that JW forms a connection with his K9 dog, and we are shown the many ways having a K9 dog can help police officers in dangerous situations. This book did contain some mature content, so I would advise younger audiences not to read this book. However, this book is perfect for those who are interested in reading a suspenseful book about crime!
Explain your content rating:
The is mature content and language in the book that is not suitable for young audiences.
KEYWORDS
ACTIVITIES, HOBBIES, PLACES, AND EVENTS: