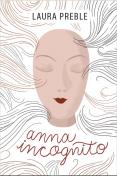 Genre -
Literary Collection
LitPick Review

Anna Colin Beck has a very structured life. She has obsessive-compulsive disorder, so her life is very regimented. Every place and room she is in must be spotless, so she brings cleaning equipment everywhere she goes. She is super sensitive toward certain physical senses, so she can't be near textures or strong odors such as perfume. Animals make her nervous, so she can't be near them. She has trichotillomania, a hair-pulling disorder, so she brings a wig and its stand, which she calls "Annabelle." She lives a structured life of lists, schedules, and organization in which everything must be in its place or she gets upset. She has a past, but she doesn't like to elaborate to anyone—not even the book's reader.
On top of all her problems, her emotional level is very stunted. This comes into play in her relationship with her therapist, Dr. Edwin Denture. She perceives his therapy sessions as romantic dates and becomes enamored with his professional concern. She goes from a crush to infatuation to believing they have a romance. When he announces he is getting married, Anna is crushed. She is then determined to take a road trip to Colorado to stop the wedding.
Opinion:
This book could be difficult to read for anyone who has such emotional and psychiatric disorders. The author describes the main character's symptoms so well that those who relate to her situation might feel very uncomfortable, especially in times of great stress. Certain moments—such as when Anna feels nauseated as she walks into a restaurant for the first time, or when she has the urge to clean up a public restroom or hold it in if she can't—are very real for some people. For that reason, it is not an easy book to read.
But Anna is well defined and multilayered as a character who happens to have an emotional illness, rather than the illness defining the character. She makes a lot of bad decisions, particularly as far as her feelings for Dr. Denture, but she is also very relatable, particularly when the reader finally learns about her past.
By far the strongest emotional crux in the book is between Anna and Mellow, a street-smart vagabond girl who ends up traveling with Anna. Mellow is Anna's polar opposite in many ways—a free spirit without structure. She is messy, foul-mouthed, and cynical. She has barely been to school, largely self-taught through books, television, travel, and acting as caretaker to her addicted mother.
The two filling a void for each other, especially after Mellow's mother abandons her. Anna gives her structure and a real maternal affection. Mellow helps Anna separate reality from her fantasies and come to terms with her past. Anna Incognito is a book that people with emotional and psychiatric disorders will relate to, and those who don't will better understand those who do.
Explain your content rating:
Talk about sexuality, cursing
KEYWORDS
CHARACTERISTICS AND EMOTIONS:
ACTIVITIES, HOBBIES, PLACES, AND EVENTS: