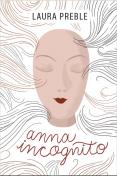 Anna Incognito
Anna Colin Beck knows all too well what can happen when things go wrong, really wrong. So, she's spent the last several years living an extremely regimented life at home, doing everything she can to avoid subjecting herself to the torments of a germ-infested world. Everything must be just so, and when things don't go to plan, she punishes her own body...and that still hasn't helped alleviate her pain.

After a chance meeting in a laundromat, she finds herself completely infatuated with another person, something that hasn't happened to her in a long time. Dr. Edward Denture is seemingly brilliant and magnetic...and in the blink of an eye, she's attending intense somatic therapy sessions as his newest client. The more he draws from her, the further their relationship grows, until it's crossed countless lines and consumed Anna with a fierce toxicity. And before she knows it, she finds herself buckled into the driver's seat of a powder-blue El Dorado for a solo cross-country road trip, determined to stop his wedding. It's a trip that will test every limitation she's ever set for herself, and though she's planned extensively for all contingencies, there are some twists and turns you just can't prepare for.

With wry observations on the intersection of luck, fate, and life, Anna Incognito is a searing, darkly witty exploration of what it means to be alive.