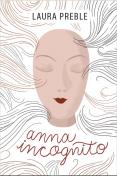 Genre -
Literary Collection
LitPick Review

CLICK HERE! to view LitPick's Book Brief Video for Anna Incognito

Forty-two-year-old Anna Beck has Trichotillomania, a component of her Obsessive-Compulsive Disorder, and has spent several years living a disciplined life at home. Anna has done everything she can to avoid venturing into what she believes is a germ-infested world. But all of that changes when she meets Dr. Edward Denture at the laundromat. Anna begins seeing Dr. Denture for somatic therapy sessions. Mesmerized by his good looks, charm, and British accent, she soon falls head over heels in love, and nothing will stop these two from being together.
Anna's dreams come crashing down after she receives an envelope in the mail. She refuses to open it, but thanks to her nosy neighbor, Anna has to come face to face with her worst nightmare. It's an invitation to Dr. Denture's wedding in Colorado, and he's invited Anna to attend. When Dr. Denture moved away once before, Anna thought she'd lost him forever. Now given a second chance, she'll do anything to prevent him from getting married, even if that means confronting her fears and traveling to Colorado to stop the man of her dreams from making the biggest mistake of his life.
Opinion:
Anna Incognito is a quirky, comical, insightful, and serious read filled with twists and turns from its beginning to the end. I like it that, along her journey, Anna is introduced to some interesting characters who each have a unique relationship with her. I also appreciate how Anna is pushed more and more outside of her comfort zone as the story progresses. She's taking a chance on something, even though risks are involved. Anna discovers more about who she is as a person as the story unfolds. Furthermore, I like the author's willingness to tackle and shed light on serious matters, including mental illness, grief, and suicide.
Explain your content rating:
Anna Incognito discusses subject matter such as suicide and grief.
KEYWORDS