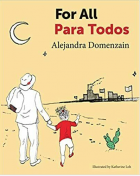 LitPick Review

For All/Para Todos is a story about a young girl and her father seeking a better life in a land that is for all its people. As Flor and her father begin their journey across surrounding borders, their hopes remain high. However, after multiple struggles within their new country, Flor discovers that justice and freedom for all is really justice and freedom for some. Her father informs her about their restrictions as immigrants, and Flor is crushed. After this setback, Flor perseveres and discovers her passion that can help her cope with these unimaginable realizations. She later uses her passion to help people like her and her dad achieve rights in their country. On a rollercoaster of hope and emotions throughout this book, Flor finds strength to pursue her passion and fight for what is right for her family.
Opinion:
For All/Para Todos is a revolutionary story about a young girl's pursuit for justice. This book is perfect for readers of all ages because it offers lessons that are valuable in any stage of life. The picture book examines the struggles of immigrants and their fight to achieve a better life. The author also includes various scenarios where Flor is tested and challenged, and she chooses to persevere. This gives readers hope in whatever struggles they are going through at the time. Readers can connect to Flor as an immigrant, a daughter, or a student. Each reader can take something away from this book whether it is inspiration or information about immigration. Ultimately, this book offers readers an educational experience through the addition of Spanish-translated text and valuable lessons about justice, strength, and hope.
Explain your content rating:
There is nothing to be concerned about. If younger readers read this book, parents need to make sure they are available to answer any questions about this complex topic.
KEYWORDS
CHARACTERISTICS AND EMOTIONS:
ACTIVITIES, HOBBIES, PLACES, AND EVENTS: