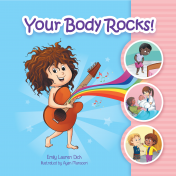 LitPick Review

Age at time of review - 29
Reviewer's Location -
Quezon City,
Metro Manila,
Philippines
View Lilily's profile
Your Body Rocks is a well-written book. It educates children about our bodies, what it does or how it functions, what it needs to be healthy and to be protected, and why changes happen in our bodies, especially during the adolescent ages. Aside from being educational on anatomy, health, and protection, the book also touches on the topic of consent. The book is a very good companion for parents to teach children about our changing bodies. It is also good for independent learning for kids as the book thoroughly explains reproductive concepts.
Opinion:
Emily Lauren Dick should be lauded for creating such a masterpiece. Your Body Rocks touches on the objective learning of the reproductive system as well as the sensitive topics such as consent. It is a book that every child should be able to read and every parent should be able to discuss these things without prejudice or awkwardness. The book aims to do just that. For children, the goal is to teach kids about our bodies, how to protect it, who can touch it, what is wrong and what is right. For adults, the goal is to be a companion and a guide when discussing the reproductive systems and our bodies.
Explain your content rating:
KEYWORDS
CHARACTERISTICS AND EMOTIONS:
ACTIVITIES, HOBBIES, PLACES, AND EVENTS: