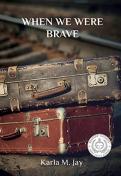 Genre -
Historical Fiction
LitPick Review

WATCH THE LITPICK BOOK BRIEF VIDEO!

When We Were Brave follows three separate but similar stories of victims of the horrors of the Holocaust during World War II. There's William Falk, a rogue SS officer seeking to disclose the horrors of the concentration camps to the U.S. so that they can infiltrate them and free the prisoners inside. Then, there's Izaak Tauber, a young Jewish boy who is shuffled from camp to camp with his mother while separated from his father. Finally, there is Herbert Muller, a Pennsylvanian miller of German descent whose family is accused of being Nazi spies, causing Herbert and his father, Otto, to be brought in for questioning and eventually imprisoned on Ellis Island with their fellow German-American citizens.
Each chapter furthers each of these stories in rotating succession as the final two years of the war pass. When we first meet them, the characters are deep into the routine of war, separated from loved ones, living on rations, and longing for normalcy. But what they don't know is that their situations are about to get much worse before they get better. And they will experience firsthand the distrust, prejudices, and the ugliest side of humanity that they could dream up. Despite this, they all hold onto hope that they will survive, that the war will soon end, and they will one day be reunited with their families.
Opinion:
As an adult, you approach reading books set in this era with the knowledge attained in your high school history classes, popular films, and documentaries that you have consumed over the years. When We Were Brave tells very familiar stories about the war and its atrocities from very unique perspectives.
Americans receive a glossed-over education about the Japanese prison camps constructed during the war, but the average person hasn't heard of the German citizens being imprisoned and given the ultimatum to remain imprisoned or return to Germany like the Mullers. We aren't widely told about the American work camps where thousands of POWs, like Falk, were sent. And we didn't learn about the propaganda camps like the one where Izaak and his mother stayed and put on "plays" for the Red Cross to convince them that the truly horrific crimes that were being committed were complete falsities.
Author Karla M. Jay's story is well-researched yet blended with creative storytelling details to create a compelling novel unlike any story about the Holocaust that I've read before. Every perspective was captivating, fueled by the familiar tension, violence, and anger that this era in history inspires in modern readers. It's a slow read, but at no point does it slow in plot or pacing. The months that subtitle each chapter tick by at a stomach-tightening crawl, the reader urging the characters to hang in there until 1945 when they know they will be saved - if their luck holds out.
When We Were Brave was one of the best books I've read this year. It treats its time period, characters, and plot with the sensitivity and respect that it deserves, focusing on the human side of the war rather than trying to shock and disgust its readers with horrific images and details. It's a great reminder to respect history and to mine for its lessons in the stories that have yet to be told.
Explain your content rating:
somewhat graphic descriptions of the Holocaust and wartime violence
KEYWORDS
ACTIVITIES, HOBBIES, PLACES, AND EVENTS: