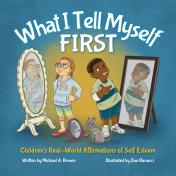 LitPick Review

WATCH THE LITPICK ANIMATED BOOK REVIEW VIDEO!

What I Tell Myself FIRST by Michael A. Brown is a straight up conversation starter with children intended to help them affirm the process of growing up. This book teaches children that they don't have to be perfect or liked by everyone else to be okay. It encourages them to like themselves and to help others. Teaching children that it is good to "perfect what they are good at, work hard at what they are not good at and either get better or do something else" frees kids from expectations that they have to be great at everything. Lessons such as how to earn respect and why respect is important are addressed. What I Tell Myself FIRST by Michael A. Brown encourages a refreshing conversation of healing and hope for the children of the 20s.
Opinion:
Overall, I found the book What I Tell Myself FIRST to be a frank and healing conversation starter about self-esteem. A few of the lines disturbed me, especially when I read them from a child's black/white perspective. I found myself arguing with some of the affirmations. I imagine that while writing this book, the author summed up some of the affirmations he discussed with his children and friends, but some of the deeper conversations behind the affirmations were intentionally left out to encourage conversations between the adult and the child reading this book. I imagine that the connection to a child's spirituality was intentionally left out to maintain inclusivity. This leaves room for discussion on many levels.
I recommend this book for any age as long as an adult is close by, coaching an open conversation while reading with the child to affirm the affirmations. Kudos to author Michael A. Brown for using his voice to open the conversation for children learning to "own" themselves and to be proud of who they are becoming.
Explain your content rating:
Regarding the Maslow's Hierarchy of Needs pyramid...In a children's book, I think that the needs of "sex" and "sexual intimacy" are unnecessary and should have been left out. I think that this book needs to be read and explained to children by an adult.
KEYWORDS
CHARACTERISTICS AND EMOTIONS: