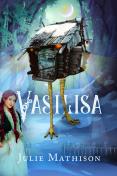 LitPick Review

In 1919, in the town of Edenfall, Pennsylvania, young Vasilisa, her mother Tatiana, and her grandmother (Babka) have just learned that her father has been presumed dead in WWI. Meanwhile, a young boy, Ivan, is looking for vengeance after the murders of family members. There appear to be supernatural forces at work that the two teens must work together to defeat.
Their quest leads them to "Old Rus," the land of Russian folklore, where they deal with the three Baba Yaga sisters among others. Through many trials and adventures, the teens also deal with their feelings toward each other.
Opinion:
I enjoyed every word of this story. It begins in Pennsylvania in 1919 and then moves to "Old Rus," the land of Russian folklore. I don't have much knowledge of the stories included, other than Baba Yaga, but this may well spur me to do some research in the future, especially since this is the first book in a series.
The town of Edenfall, Pennsylvania is well described throughout the portion of the story that is told there. I could picture each location as the characters were there, which drew me further into the story. The same was true of "Old Rus." It was obviously a wilder environment and the setting was as much a source of the feelings inspired by that part of the story as the actions of the characters.
Vasilisa and Ivan are very likable characters, and I truly cared about their decisions and actions throughout. I look forward to future installments of this story to see where it goes, particularly after the epilogue of this one.
KEYWORDS
ACTIVITIES, HOBBIES, PLACES, AND EVENTS: