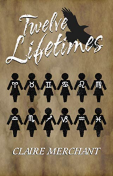 Age Range -
Mature Young Adult
LitPick Review

Elizabeth remembers eleven lifetimes. The memories of each of her lives haunt her and only leave her pining for a happy ending in her now-twelfth life. To find some clarity, she finds herself going to a therapist, Jemima, and after retelling each of her lives to her therapist, Jemima tells her the same advice she does after each life story. Jemima tells her that maybe the outcome she is seeking, to live happily with her true love Adrian or variation of him that is found in each of her memories of her previous lives, is just not what Elizabeth should focus on. Perhaps she must learn to find happiness and love within another form, even within herself. Elizabeth dismisses her therapist's advice as futile and believes her fate is already sealed. She tries to live her twelfth life without thinking about finding her soulmate and even seeks to avoid situations that might lead him to find her again. She just can't bear losing him again in another painful tragedy or death. She must face her fate, decide what she has control over, and learn to listen to others who are wiser than herself. There is a twist at the end of the story as Elizabeth converses with someone who may hold the answer to her deepest wish all along and will finally reveal an impossible secret.
Opinion:
This book is a riveting romantic fiction that bleeds into the genre of science fiction as it explores the idea of past lives/reincarnation. It also leaves the reader contemplating how loving ourselves is just as imperative to a fulfilling life as loving others. I enjoyed the author's way of writing twelve lifetimes as each chapter is written as one of the twelve zodiac signs. The book also has elements of historical fiction as each lifetime is written during different periods in time and different locations around the world. I would recommend this romantic novel to readers who enjoy history, the mystical, and a romance that leaves you pining right along with the main character.
Explain your content rating:
Some romantic acts described.
KEYWORDS
ACTIVITIES, HOBBIES, PLACES, AND EVENTS: