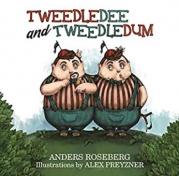 LitPick Review

Tweedledee and Tweedledum (Other Wonderland Tales Book 1) by Anders Roseberg, and illustrated by Alex Preyzner, is a children's lyrical fiction. This book will appeal to young children who are baffled by twins and their appearances. While Dee and Dum look very much alike, their private life is hardly similar. While Dee is serious and intelligent, Dum is full of fun and frolic. Children will love reading their contrasting food habits, dressing style, mischiefs, and their outings to the beach. Preyzner has presented this wonderful journey using colourful illustrations. However, despite these differences, there are a few similarities, and overall, Dee is sweet to Dum. This book is a true eye-opener presenting the life of identical twins in a singing narrative that echoes long after one finishes reading the book.
Opinion:
Roseberg has created a duo which kids and siblings can relate to. His use of rhyme and sarcasm goes well with the overall flow of the plot. Rhymes are intricately woven such that it is easy to read. The illustrations reminded me of classics such as Alice in Wonderland, Charlie and the Chocolate Factory while the characters resembled the human version of Humpty Dumpty. This illustrated book will attract children and adults alike since it speaks of childhood memories in a comprehensively exhaustive way. No matter how much siblings or cousins annoy us, it is ultimately their unconditional love which keeps the family together. Children will love to read this book and parents will love to read it to them too.
Explain your content rating:
This book contains nothing that would be considered offensive. It is generally absent of violence, sex, drugs, swearing, and crude comments.
KEYWORDS
CHARACTERISTICS AND EMOTIONS:
ACTIVITIES, HOBBIES, PLACES, AND EVENTS: