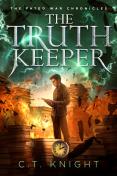 Genre -
Historical Fiction
LitPick Review

The Truth Keeper is set during the Holocaust, and Fritz, a young Nazi boy is very passionate about being a good Aryan, but internally he thinks killing Jews and Communists is wrong; however, he has never told anyone that.
Fritz's Opa (grandpa) is a crazy old man who is obsessed with a particular book. Fritz wonders, "What is so special about this book?" The Nazis then kill his Opa because of that book, and Fritz does not understand why. Once his Opa is dead, he becomes the Truth Keeper when he opens that mysterious book and jumps into Biblical times. He does not understand what is going on, and he just wants his Opa and dead parents (who died suddenly) to come back. He figures out that he is the Truth Keeper who is supposed to teach everyone about God in those hard times. What is this book? Why is this happening? How did Fritz's parents die?
Opinion:
The Truth Keeper was an exciting book to read. It is now one of my favorite historical fiction books. I extremely like reading about the Holocaust, and this book had a twist since there was a bit of fantasy involved. It was very mysterious to figure out what was going on. The reader had to keep up with the events and attempt to piece together the information to figure out why those things were happening. I was on the edge of my seat multiple times.
There was nothing that I disliked about this book. It is right within my taste for books. The Truth Keeper is the first of an upcoming series, and I will definitely read the other books once they are released.
The book ends with a cliffhanger because not all of the questions Fritz has have been answered. The Truth Keeper was a very appealing book for me; therefore, I give it a 5 of 5 stars. I would recommend this book to readers ages 11 and up.
Explain your content rating:
There was a little violence and some profane language but nothing super offensive.
KEYWORDS
CHARACTERISTICS AND EMOTIONS:
ACTIVITIES, HOBBIES, PLACES, AND EVENTS: