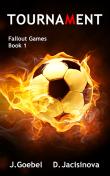 LitPick Review

Can you imagine that your country will go to war if you don't win a tournament? It is 2044 and you are waiting in your dorm room to find out if you made the national​ soccer team. But, what you don't know is that the President and a player's dad want you to be bigger and stronger than the other teams, so they give you a pill that the team soon figures out is a drug. The book is a very exciting and drama-filled book that makes you ask yourself, which is more important… taking the drugs so your country doesn't go to war or not taking the drugs because you know they can't be good for you and risking the chance that your team will have to win the tournament?
Opinion:
Overall I think "The Tournament" was a good book. At some points I felt like I was reading the last chapter I read over again but maybe that's just me.
This book is a great choice for a variety of readers - those who love sports, adventure, futurisic reads, or action. There is a lot of political tension and action, keeping the reader turning page after page. It is for mature readers, there are some swear words, but other than that the book was a very good read.
KEYWORDS
CHARACTERISTICS AND EMOTIONS: