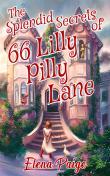 LitPick Review

The Splendid Secrets of 66 Lilly Pilly Lane starts in a diamond mine with a blind girl named Chia. She is digging diamonds for her evil stepmother Pricilla. The story continues with a rescue for Chia, and she ends up at 66 Lilly Pilly Lane. There, some creatures help her and give her a great gift, but she remembers her sister is at the castle and asks her new friends to help rescue her. The friends have one condition: they want Pricilla's heart. The rest of the story involves rescues, escapes, and magical creatures. Read the book to find out all the details!
Opinion:
The Splendid Secrets of 66 Lilly Pilly Lane is a beautifully written book. Whenever I picked up the book, I was immediately drawn into it and felt like I was part of the story. I loved the friendships Chia gained with the creatures at 66 Lilly Pilly Lane and that she could talk to her pet. It added a lot to the story. The many friendships and conflicts in the book enhanced the story. The author of this book added so much detail, and the twist at the end was fabulous. I definitely recommend this to everyone who can read. It is such an amazing book, and I never wanted to set it down.
Explain your content rating:
There is nothing offensive in this book!
KEYWORDS
CHARACTERISTICS AND EMOTIONS:
ACTIVITIES, HOBBIES, PLACES, AND EVENTS: