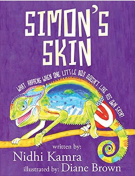 LitPick Review

Simon's Skin by Nidhi Kamra and illustrated by Diane Brown is a children's book based on accepting your own skin. This acceptance stems from the experiences of the protagonist in the plot, Simon, who tries a couple of skins but finds all of them boring, and Simon doesn't like boring. He tries the skin of various animals like a porcupine, chameleon, firefly, snake, and even a fox but all of them end up being disastrously boring for Simon as he gets ignored, laughed at, or uncomfortable in all their skins. Ultimately, it's his own skin where Simon finds peace and perfection as he is glad to have something not boring at all.
Opinion:
Nidhi has explained deep psychology through her simple words. The illustrations by Diane are also meaningful and aptly bring out the mental picture kids try to form while reading. This book will help kids learn to accept their skin early in life and save themselves the trouble of trying to fit into someone else's shoes for no reason. The universal feeling of love and acceptance find a way through the pages inside this book as the author reminds us of the consequences we might face while trying to put on other's skin. This moral has been portrayed in a friendly manner which is appealing for kids and parents.
Explain your content rating:
This book contains nothing that would be considered offensive. It is generally absent of violence, sex, drugs, swearing, and crude comments.
KEYWORDS
CHARACTERISTICS AND EMOTIONS:
ACTIVITIES, HOBBIES, PLACES, AND EVENTS: