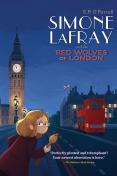 LitPick Review

Simone LaFray is not a normal girl, no matter how much she looks like one, because she is a spy. One of the agents of the Ministry, a girl named Claire, is kidnapped in London just after finding a very valuable package that would be devastating in the wrong hands. Simone has to take her best friend, the V, along with her to London to investigate the case. Only one problem: the V has no idea about Simone's secret life, and it must stay that way. As Simone searches the school for the package, she manages to get into deep trouble, wreck her friendship with the V, fail her mission, and discover the Ministry might not be exactly what she thought it was. Will Simone be able to save the day again? Read this book to find out!
Opinion:
Simone LaFray is one of the best new book series I have read in a long time. S. P. O'Farrell has created a relatable character in Simone as she struggles through adolescence and starts making her own descisions and keeping her own secrets. Simone realizes that friends are worth keeping and owns up to her mistakes. Simone proves to us all that failure is a great teacher. I would recommend this book to anyone ages 10-14. There's action, adventure, secrets and suspense. I read this in one sitting!
Explain your content rating:
There is nothing offensive in this book.
KEYWORDS
CHARACTERISTICS AND EMOTIONS: