Simone LaFray and the Red Wolves of London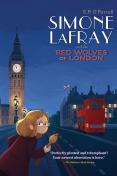 Simone LaFray and the Red Wolves of London
Book #2 in a Middle-Grade series. You guys reviewed Book #1 (Simone LaFray and the Chocolatiers' Ball) a few years ago. Here is the jacket summary.

After her triumph at the Chocolatiers' Ball, Simone LaFray wants to fade into the shadows and avoid her newfound popularity, but it is not meant to be. Duty calls when a fellow junior spy goes missing from the posh Claymoore School in London and Simone jumps at the assignment. Going undercover, Simone soon finds herself embroiled in a complicated game involving dark forces, the enigmatic omni-key, and an unruly royal. First looks can be deceiving, but could a certain redheaded thief be pulling the strings?

In the second book of Simone LaFray Mysteries, Simone navigates school rivalries, oversees the opening of a new LaFray's Patisserie, and finds herself questioning her loyalties as she prowls under the moonlight with the notorious Red Wolves. And to top it all off, the most popular boy in school can't stop staring at her. The life of the world's most promising young spy is about to get messy.