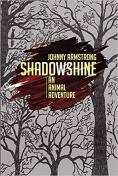 LitPick Review

CLICK HERE! to see LitPick's Book Brief Video for Shadowshine
Zak, the main character of Shadowshine: An Animal Adventure, is a possum who lives in a prehistoric forest. Because of his unique ability to speak in both the tongues of the rodents and "forest folk," he serves as a liaison between animal species. Known as "The Poet," Zak has the important job of presiding over animal wedding ceremonies. On his journey through the prehistoric forest with his wise bobcat friend, Sena, Zak hears troubling news. A mouse and then an owl warn him that humans, new creatures to the forest, are setting fires that are burning down the trees. In an attempt to stop the malicious acts of Mungo, the leader of these destructive humans, before they reach his home, Zak sets off on a quest to get help from the animals of the North. On his adventures, he learns many lessons and meets new animal friends, but he also becomes lost and faces many dangers in the unknown regions of the forest. Will Zak be able to triumph over the perils he faces? Will he be able to stop Mungo before he burns down the entire forest?
Opinion:
Shadowshine is a very unique book. It is set in the period when humans first appeared on earth, but it speaks to the environmental issues of today. The author paints such vivid pictures of Zak's animal friends and their surroundings that I sometimes felt as if I were traipsing through the forests with him. This book explores several thought-provoking themes. It discusses evolution, emphasizing that an acceptance of death is necessary for the functioning of the food chain and for overall equilibrium in the natural world. It stresses the power of communication, coexistence, and perseverance. Last, it exemplifies the power of unity when facing a common enemy. To me, this book is especially valuable because it addresses the pressing issue of human impact on the natural world from the perspective of the animals most affected by it. It has a message everyone should hear, but much of the vocabulary is likely over the heads of most children and even some young adults. Therefore, I recommend this book primarily to adults who have a passion for the natural world and are interested in an allegorical story about human impact on the environment.
Explain your content rating:
This book contains no religious or mature content.
KEYWORDS
CHARACTERISTICS AND EMOTIONS:
ACTIVITIES, HOBBIES, PLACES, AND EVENTS: