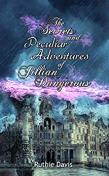 Genre -
Historical Fiction
LitPick Review


It's 2015, and Jillian Cassidy is a girl who attends Halifax Middle School in Halifax, New York. She should be in sixth grade, but she skipped first grade, so she is in seventh grade. Jillian is a victim of bullying, and she is tired of it. She tells her parents, and they give her a phone so that she can call if a situation occurs.
When Maddie, the big school bully, sees that Jillian has a phone, she gets the number and sends her mean texts. Jillian tells her parents, and she wishes she could move to the school that her mother attended. Jillian's mother went to school in Vietnam. The reason Jillian's mother went to school in Vietnam was because her parents were physician missionaries who treated people with leprosy. During the Vietnam War, Jillian's grandfather was captured and never seen again, and Crest Academy was moved from Vietnam to Singapore, and its name was changed to Crest International School.
In order to escape the bullying in Halifax, Jillian's parents give her three choices for school: Crest International School, online homeschool, or a Catholic Private School in Halifax. Jillian chooses Crest International School, and she and her mom travel to Singapore. There she meets her three roommates: Meg, Sam, and Sadie. She thinks they will be rude like Maddie was, but they are very kind to her.
Jillian's mother has to go back to Halifax sooner than was planned because there is an emergency at home. One night, Jillian and her friends are playing in the rain, and when they return to their dorm, they have traveled back in time to the year 1965, and they are transported to Vietnam. She realizes that her grandfather has not yet been captured. Is her purpose for being here to save her grandfather? How will Jillian and her friends get back to the year 2015? Will they get back to 2015?
Opinion:
The Secrets and Peculiar Adventures of Jillian Dangerous was an awesome book because of all the twists and turns. I really liked the relationship between the roomates because they would help each other out and support each other. I also liked how the setting was at a boarding school because it reminded me of Harry Potter. One other thing that was interesting about this book was that when the girls traveled back in time to 1965, Jillian and her mother were friends. There was nothing that I did not like about this book. I hope the story will continue and become part of a series because I definitely want to read more. I would rate this book 5 of 5 stars, and I would recommend this book to ages 10 and up.
Explain your content rating:
There is nothing offensive in this book.
KEYWORDS
CHARACTERISTICS AND EMOTIONS:
ACTIVITIES, HOBBIES, PLACES, AND EVENTS: