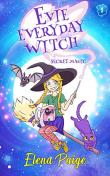 LitPick Review

WATCH THE LITPICK ANIMATED BOOK REVIEW VIDEO!

All she wants is to be a "normal" kid going to a "normal" school. But for Evie the Everyday Witch, fitting in isn't easy. At Pergoria, her witch school, all her classmates made fun of her and she didn't have a single friend. Then she moved to Wyndermere, and her parents finally let her go to the local school. Evie gets her chance to be an "everyday" kid, but it isn't easy. While Evie shows up to the first day of sixth grade wearing her bright colored clothing (especially notable are her sparkly orange-and-pink striped stockings), she realizes that the whole school is wearing black!
Then she meets Izzy, the only other student in the school with a bubbly personality and colorful clothing to match. Izzy befriends Evie and encourages her to let her bright personality shine. But Evie has a problem: she can't hope to be popular if she hangs out with Izzy, the biggest misfit in the entire school! Evie soon finds herself abandoning her first friend for the respect and adoration of the rest of her peers. Will Evie ever learn to embrace her true personality? Will she be able to balance being a witch with her obsession for being "normal"?
Opinion:
Secret Magic, the first book in the Evie The Everyday Witch series by Elena Paige is a fast, fun read that teaches an important lesson. One thing that makes this book special is how Evie sometimes breaks from simply narrating her story and starts "conversing" with the reader - addressing them directly and even asking them questions. I believe that this will help young and/or reluctant readers to connect with Evie's story.
This story flips the traditional fairy-tale roles upside-down, giving witches a turn at being the "good guys." I love how Elena Paige uses a contrast between Evie's sparkly style and the dull personalities of all the "normal" kids to break the stereotype that witches are evil. Young readers can transfer this idea and question other stereotypes they encounter.
Secret Magic will especially appeal to fantasy lovers ages 10 and under but teaches an important lesson that applies to everyone: never try to change yourself for the sake of being like everybody else, because you are the only you in the whole world.
Explain your content rating:
This book contains no religious or inappropriate content.
KEYWORDS
CHARACTERISTICS AND EMOTIONS:
ACTIVITIES, HOBBIES, PLACES, AND EVENTS: