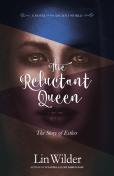 Genre -
Historical Fiction
LitPick Review

When Esther is orphaned as a young Jewish girl, she goes to live with her uncle, Mordecai, and his wife, Joanna. She grows in wisdom and stature, becoming fluent in both Hebrew and Aramaic, well-versed in the texts of her own religion, Judaism, and also knowledgeable about the religions of the neighboring peoples. By the time she is a teenager, everyone in their small Persian town knows of her stunning beauty and brilliant mind.
King Xerxes, ruler of Persia, has just banished Queen Vashti from the land for dishonoring and denying him. But now, he is left without a queen! That won't do. He decides to begin a search for a woman more beautiful and honorable than Queen Vashti. He sends out soldiers to find the most beautiful young girls in the kingdom, including Esther. These girls spend months preparing for the night they will spend with him. Eventually, he will choose one of these girls to replace Queen Vashti.
Haman is the grandson of the king of Assyria. Years after Assyria had been defeated by Persia, Haman decides that it is his job to execute revenge against King Xerxes, though his grandfather would not. After his plan to assassinate the king fails, he decides to infiltrate the army. Beginning as a lowly trench-digger, Haman begins to climb the ranks through deception and manipulation. His goal: to overthrow King Xerxes and destroy anyone who lies in his way.
When the paths of these three individuals collide, lives are on the line. Esther's uncle manages to anger Haman, who decides to destroy every Jew in Persia. Can Esther use her opportunity with the king to save her people and somehow save Xerxes himself?
Opinion:
The Reluctant Queen was a beautiful retelling of the story of Esther. I enjoyed how the author, Lin Wilder, kept Esther true to her Jewish faith and was able to give her and Xerxes a love story of their own. There were a few differences between The Reluctant Queen and the biblical story of Queen Esther, but these differences supported the plot of the story and kept me guessing at what was going to happen next. I was a bit disappointed that the author took out the biblical story of Haman leading Mordecai out on a horse and honoring him, but there were other exciting encounters between Esther and Atossa, Xerxes' mother. Although there are some parts where the plot drags a bit, I thoroughly enjoyed the book. My advice is to keep reading through the slow parts. The ending is worth it!
Explain your content rating:
There is some death and allusions to sex.
KEYWORDS
ACTIVITIES, HOBBIES, PLACES, AND EVENTS: