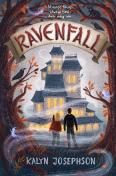 LitPick Review

Everyone else in Anna's family has "useful magic". From being able to read people's thoughts to sensing auras, they are the people tourists come to Ravenfall (her family's magical inn) to visit. Anna's power is a lot darker because she senses death. If she touches anyone who has seen death, she sees the memory of what exactly happened during that time through their eyes. And since most people don't want to be reminded of those horrible memories, no one seeks out her magic. However, one day she mysteriously brushes hands with a stranger at the inn and sees a very vivid death of a woman and a man. Just as her vision is ending, she catches a glimpse of two boys entering the room and seeing the dying man and woman. To her surprise, one of the boys from the vision appears at the inn that very day. His name is Colin, and his parents are the man and woman who were murdered in Anna's vision. Colin came to Ravenfall to find his brother, who he has gotten separated from. Anna realizes that the stranger she brushed hands with earlier was there at the time of Colin's parent's death, meaning he knows something. Anna realizes this is finally her chance to put her powers to use and help Colin figure out what happened to his parents. But Colin and Anna are venturing into much more dangerous territory than they realize. With the help of some magic, will they be able to unlock what really happened, and who is the mysterious stranger who seems to know more about the deaths than them?
Opinion:
Overall, I enjoyed reading this book! I love reading mysteries where the main characters are trying to solve a murder, but I usually end up getting too creeped-out reading it! This book was the perfect amount of suspense and mystery without being too scary. I also really enjoyed the aspect of magic that was woven into this story because it made the story unique, and I think that the author did a great job of explaining the magic within the world of Ravenfall. After just reading the first few pages, I felt that I understood most of the magical aspects in this book in that everyone in Anna's family has a magical power and the inn they live in is also magical. Another thing I really enjoyed about this book was how descriptive the author was when describing scenes, particularly Anna's visions. When I read Anna's first vision of Colin's parents dying, I really was able to feel as if I was seeing the scene happening as well. Lastly, I liked the fact that some of the chapters were written from Colin's perspective. It was interesting to see his thoughts and opinions on what was happening in the story, such as seeing his first impressions of Anna and Ravenfall! Overall, I highly recommend this book to anyone looking for a magical mystery!
Explain your content rating:
This book is appropriate for kids!
KEYWORDS
CHARACTERISTICS AND EMOTIONS: