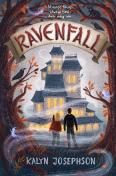 Halloweentown meets Supernatural in RAVENFALL by Kalyn Josephson (Storm Crow duology), a spooky middle-grade series starter that features one magical inn, two kids with supernatural powers, and an ancient Celtic creature trying to destroy their world by Halloween night. Ahead of Halloween, I wanted to make sure was this new series was on your radar for any planned gift guides or roundups of Halloween reading recommendations.

Thirteen-year-old Annabella Ballinkay has never been normal, even by her psychic family's standards. Every generation uses their abilities to help run the Ravenfall Inn, a sprawling, magical B&B at the crossroads of the human world and the Otherworld. But it's hard to contribute when your only power is foreseeing death. So when fourteen-year-old Colin Pierce arrives at Ravenfall searching for his missing older brother and the supernatural creature who killed their parents, Anna jumps at the chance to help. But the mysteries tied to Colin go much deeper than either of them expects.

As the two team up to find answers, they unearth Colin's family's secret past and discover that Colin has powers beyond his imagination. And now the supernatural creature, one with eerie origins in Celtic mythology, is coming after him. If Anna and Colin can't stop the creature by Halloween night, the veil to the Otherworld could be ripped open—which would spell destruction for their world as they know it.
Book Details
Genre:
Adventure
Fantasy
Fiction
Mystery