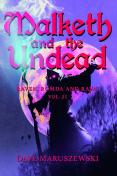 LitPick Review

Malketh and the Undead is a book about three young warriors named Raven, Ronda and Ravai. These three warriors have been called upon by the king to investigate some odd occurrences happening inside their kingdom. When they start digging into the indictments that have happened so far, they realize that one man is behind it all. The last living mage, Malketh, has raised his Undead army against the kingdom that had once turned their back on him. Will Raven, Ronda and Ravai be able to save their kingdom from destruction? Or will Malketh finally have his revenge? Read to find out!
Opinion:
Malketh and the Undead is a great adventure book. One thing I noticed about it was its great plot. There were many cliffhangers that made you keep reading. This actually motivated me to read the book in one sitting! It also had good settings which allowed you to immerse yourself in the book. From the ancient cave to the secret potion room, the author's descriptions are amazing. The characters are also very relatable to anybody 10-13 years old. The story even has a message to take away from it: "Teamwork is important!"
However, there was one thing that I did not like about the book. Each chapter was roughly two pages, and the end of each chapter had a mini cliffhanger, which just broke away from the feeling of being immersed in the story. It was really annoying to scroll past the two blank pages to continue reading. This is my only complaint.
Overall, Malketh and the Undead is a great book. I recommend this book to anyone 10 and up. I give this book 5/5 stars. Have fun reading this book!
Explain your content rating:
Just a simple adventure book.
KEYWORDS
CHARACTERISTICS AND EMOTIONS:
ACTIVITIES, HOBBIES, PLACES, AND EVENTS: