Raven, Romda and Ravai: Malketh and the Undead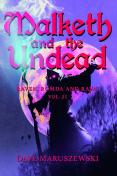 Raven, Romda and Ravai: Malketh and the Undead
From the rubble and debris in which he was buried, Malketh has returned. Presumed dead, he now rises with a fury. His rage is fixed on what he believes belongs to him, the entire kingdom.

Malketh was not always like this. Once known as a mage of incredible knowledge and aptitude, he had admiration and opportunity. Unfortunately, his ability was only matched by his passion. He started to investigate ancient and intentionally abandoned magic. That investigation became his downfall. When his mechanizations went wrong, Malketh was expelled from the kingdom.

Malketh's cunning and strength has defeated mages, wizards and the king's inner guard. His practice of the forgotten magic transforms him into something different. He's even amassed an army, an army of undead soldiers.

Raven, Romda and Ravai were tasked to defeat the Dark Beast, and they did. Thinking, maybe hoping, that would be their hardest task ever; they try to go back to their normal lives as knights. They will be blindsided by this coming force for which they won't be ready. They're normal light banter will turn to gray. Cold hands will pull and drag them to where they won't want to go.

How do you defeat an army with three people? What makes these three so special? Maybe these questions will go unanswered. Or, Raven, Romda and Ravai will have to grow out of their inexperience, and rise like Malketh and the Undead.

A great story for the fantasy loving youth, this adventure will appeal to those who like action and humor in an easy reading environment. Following their adventures in The Dark Beast, this second book in the Raven, Romda and Ravai series raises the stakes in a continuing journey of the three.
Book Details
Genre:
Adventure
Fantasy
Fiction
For Reluctant Readers
Humor