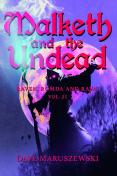 LitPick Review

Age at time of review - 29
Reviewer's Location -
Quezon City,
Metro Manila,
Philippines
View Lilily's profile
The book, "Malketh and the Undead: Raven, Romda and Ravai Vol. II" by Dave Maruszewski is an action-packed story about three knights who were tasked to investigate an explosion on Gold Mountain. On their way to the Gold Mountain, they were escorted by an official who warns them that the explosion might be the works of Malketh, a dark wizard who was long ago punished from using magic to raise the dead. Upon their arrival at Gold Mountain, they discovered that, indeed, Malketh was using magic to raise not only a few, but hundreds of undead for his army! With bravery, loyalty, and wits, the knights must strategize on how to stop Malketh before he seeks vengeance and causes chaos in their kingdom. Will the three knights be able to save their kingdom from Malketh's wrath? Find out by reading "Malketh and the Undead: Raven, Romda and Ravai Vol. II"!
Opinion:
Dave Maruszewski's "Malketh and the Undead: Raven, Romda and Ravai Vol. II." is an excellent book that takes its readers on a breathtaking journey through a fantastical world filled with magic and wonder. It also explores themes of camaraderie, bravery, loyalty, and subtly, societal injustice. In Chapter 15, the book raises the issue of societal inequality about how others view society where the intellectuals should be "given more rights." This is a relevant topic in today's society and shows an example of how sometimes, no matter how much we try, society is not really as equal as it seems. This book can serve as an eye-opener for its intended readers, especially children aged 8-12, encouraging them to think critically and reflect on what they could do on their part. Every chapter of the book ends with "To be continued…" which keeps the readers eager to turn to the next page to find out what happens next to the story. It gives a sense of suspense and anticipation in which the whole book's theme is rooted upon. Overall, it is an excellent book for children who are starting to read fiction books. It is also a marvelous book for adults who just want to read casual, easy-read, but filled-with-adventure books.
KEYWORDS
CHARACTERISTICS AND EMOTIONS:
ACTIVITIES, HOBBIES, PLACES, AND EVENTS: