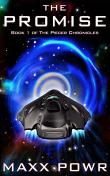 LitPick Review

The Promise takes place in a futuristic Earth already well-versed in space exploration and contact with alien species. One of these species, the Klix, waged war on the human race a long time ago, and the only way Earth's forces turned the tide of the battle was by genetically engineering a group of fast-aging soldiers, the Sixers, who fought like savages. In the wake of these specialized battalions came the Piecers, a group of genetically modified troops who aged at the normal rate. Most of the Piecers never saw battle since the Sixers drove the Klix off of Earth. But on the day the Piecer Corp is to be disbanded, the Klix bomb the program's grounds, including residential neighborhoods.
A small team of Piecer soldiers—Chase, Tripp, Gage, and Hector—search for their families in the wake of disaster while trying to apprehend the last few starships so they have a fighting chance against their returned enemy. Chase travels about the solar system, stopping at bars on a moon and fighting with hostile aliens as he seeks to repair his ship's engine and attain more fuel. After stealing back The Lone Star, the team all rendezvous and plan their attack on the Klix, preparing to risk their lives to put an end to the Klix tyranny. First, they must uncover the traitor and prove their leader's motto: "No crewmember left behind."
Opinion:
From the very beginning, The Promise grabs the reader's attention and holds it for subsequent chapters. This novel is action-packed with energetic and passionate characters. The objective is clear and the goal simple, but the scope of the world described leaves room for exploration that will greatly interest sci-fi readers. People who enjoy the Star Wars books or Star Trek movies will feel right at home in this futuristic Earth and the adventures through the nearby solar system. The dialogue keeps the story moving quickly, and plenty of humor breaks the tension of frequent battles.
Young adults will likely enjoy the playful characters, more mature than teens but still youthful enough to be impulsive and spontaneous. I recommend this story for any sci-fi lovers or adventure readers interested in getting to know a new Earth with a classic team of heroes. The book's two female characters have physical strength and good character arcs. However, I should point out that the majority of male characters, even among the protagonists, make potentially offensive comments or portray uncomfortable behavior that some readers might not appreciate. Nevertheless, overall, this book is exciting and well-paced, with sensitive back stories and action-focused conflicts. Many young adults will likely enjoy this new team of heroes.
Explain your content rating:
Lots of swearing, sexual content, and extreme violence.
KEYWORDS
ACTIVITIES, HOBBIES, PLACES, AND EVENTS: