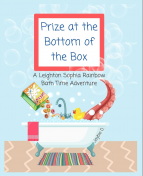 LitPick Review

Bathtime turns into an adventure as the bathtub turns into a cereal box! Like most cereal boxes, it has a treasure at the bottom. During her adventure to find the treasure, Leighton meets lots of new friends between cereal pieces and is having so much fun! Suddenly, an evil octopus tricks her! Can she and her new friends find the treasure and save the day?
Opinion:
The Prize at the Bottom of the Box is an exciting book for parents to read to their children. The illustrations are vivid and support the story well. The writing is engaging and descriptive, and the author made an excellent choice by deciding to have the lines rhyme. My favorite part of the story was all of Leighton and her friends' close calls. These made the story far more suspenseful. I would recommend this to parents of kids who are looking for a good bedtime story and to first or second graders looking for a good book to read.
Explain your content rating:
There is nothing offensive in this book.
KEYWORDS
CHARACTERISTICS AND EMOTIONS:
ACTIVITIES, HOBBIES, PLACES, AND EVENTS: