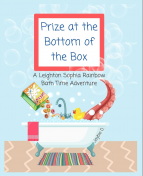 LitPick Review

Leighton is an imaginative eight-year-old who makes forts and goes on pretend adventures. In this picture book, Leighton is taking a bubble bath and begins to think about the time she won a prize at the bottom of a cereal box. Leighton uses her imagination to pretend she swims in cereal to the bottom of the cereal box, which is the bottom of her bathtub. She is careful as she looks for her treasure because she imagines an evil octopus is following her and trying to trick her into losing her prize. Luckily, she is helped along the adventure by her toys, a doll, and a rubber ducky. Leighton finds the prize, but it is not the type of prize that you would think she would find.
Opinion:
This book is playful and colorful which draws younger children into the story. The illustrations also give you the feeling that you are in motion, swimming through the bubble bath into the cereal box to find the prize. This book is suited to the audience of ages 5-8, especially if those children enjoy stories with rhymes.
Explain your content rating:
This book is suitable for the audience. No offensive content.
KEYWORDS
CHARACTERISTICS AND EMOTIONS:
ACTIVITIES, HOBBIES, PLACES, AND EVENTS: