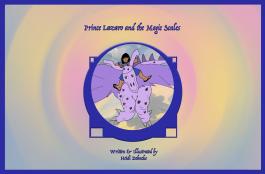 LitPick Review

This book tells the story of a Prince named Lazaro and a dragon named Deluthian. Prince Lazaro had a boring life. Every day he was just sitting on his throne as his parents worked to make their kingdom a better place. One day, he went for a walk in the forest despite being told to never go in alone. He follows a rabbit and fox deep into the forest. There, he gets transported into another world and finds a chained-down dragon whose name is Deluthian. He helps the dragon escape and finds out that the dragon is being chased by evil men for his magical scales. Will Lazoro be able to save the dragon and return to his kingdom?
Opinion:
I enjoyed reading this book. The first thing that I liked about it was the plot. I thought it was very interesting, and I liked how there are two plots: one of him bringing happiness to the kingdom and himself as well as saving the dragon. Another thing I liked was how the author used a lot of descriptive words as this brought the story to life and made it more fun to read! The illustrations were very vibrant and helped me understand what was happening in the story. The one thing I did not like was that the beginning of the story was very quick and a little hard to understand. Overall, I recommend this book to readers who want an exciting fantasy book.
Explain your content rating:
This book is a good book for kids!
KEYWORDS
CHARACTERISTICS AND EMOTIONS:
ACTIVITIES, HOBBIES, PLACES, AND EVENTS: