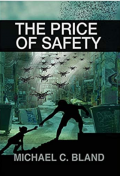 LitPick Review

In a world in which our technology is a very real part of us it becomes difficult to separate from it. However, with this much monitorization and entanglement of computers and humans it is not difficult to see that our media sources and the stories, augmented or real, that are put out quite literally control the way we think.
The Founding Fathers is a group of people ready to remake the government to prevent this invasion of privacy from becoming even worse than it already is. They are idealist radicals who will stop at nothing to regain the original balance of privacy and protection that the United States has fought for and sought after since its birth. Dray and his family get caught up in the mix when an unfortunate accidence causes them to question all they thought they knew about technology.
This futuristic world is not so far from our own and it serves as a warning to what might happen if people begin to use technology to control us instead of the common people using technology to better their lives. This novel asks the question: Where should we stop in our pursuit of human and technological integration?
Opinion:
The Price of Safety is far from a Star Wars or Star Trek futuristic out-of-this-world novel, it serves as a very real and relevant example of how technology continues to influence every part of our lives. This book is so much better than a novel that is set a few millenia into the future because the issues discussed will be prominent in upcoming decades. The arguments that are being brought to life in the book through one family are the same questions that all developed nations are asking themselves and will continue to ask themselves. This novel illustrates the importance of government transparency and the ability to think for oneself.
While the integration of technology and human anatomy is incredibly realistic, the action sequences are a little confusing. There are three groups of people mentioned in the book: the government, the rebels, and a floating town. The distinction between all of these is chaotic and not easily understandable when the latter two are revealed. This does lead to an understanding that there are spies everywhere and in real life people are messy, but it would be better to have made the differences more distinct.
Overall, the plot is understandable and makes clear sense, the reader finishes the book ready for a sequel, and the intense practicality of the novel make it a wonderful and interesting read.
Explain your content rating:
There is murder, rape (happens off-book), and some cussing
KEYWORDS
ACTIVITIES, HOBBIES, PLACES, AND EVENTS: