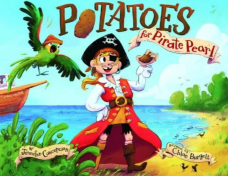 LitPick Review

Pirate Pearl and her parrot, Petunia, have spent months at sea. Finally, they have had enough of their boring hardtack biscuits to eat. Pearl and Petunia set out on a journey for something fresh and new to fill their bellies. When they meet Farmer Fay, they are really in for a treat—potatoes! After a few lessons in farming, Pearl and Petunia say goodbye to their new matey and set sail once again, this time with bags full of delicious treasure and a friendship to hold dear.
Opinion:
Told almost entirely through dialogue, Potatoes for Pirate Pearl follows Pearl and her rainbow chicken, Petunia, on their humorous quest for something new to eat. The book's format is quite unique, as each page has a different storyboard style layout, featuring multiple panels. Chloe Burgett's bright and detailed illustrations beautifully support Jennifer Concepcion's text. The pair encourages the use of inferential skills by depicting multiple events per page with limited narration. A combination of various fonts, sizes, and colors accentuate each story panel, along with onomatopoeia and Petunia's parrot banter. Pearl's pirate dialect adds to the character's authenticity, using words like vittles and thar. In partnership with the American Farm Bureau Foundation for Agriculture, Concepcion and Burgett provide recipes, gardening tips, and fun facts about potatoes. A treat for educators and students alike, Potatoes for Pirate Pearl will have you giggling—and hungry for potatoes!
Explain your content rating:
Potatoes for Pirate Pearl is both educational and entertaining. This book is appropriate for a variety of settings.
KEYWORDS
ACTIVITIES, HOBBIES, PLACES, AND EVENTS: